Mississippi's Fourth Congressional District is one of the fastest growing regions in the Southeast with a strong local economy and a vibrant culture.
Our district has always been a leader in innovation. The Apollo rockets that sent a man to the moon were tested at Stennis Space Center in Hancock County. Today, those same facilities are used by companies to develop new rockets that might one day send a man to Mars.
On the Gulf Coast, South Mississippians help build the U.S. military's naval fleet—everything from destroyers and landing crafts to submarines and solar-powered nautical surveillance drones. Other South Mississippi companies are on the cutting-edge of new technologies in armor and weaponry for the men and women of our armed forces.
The Fourth District is home to multiple major military installations. Camp Shelby, located South of Hattiesburg, is one of the largest mobilization stations for the U.S. Army Forces Command (FORSCOM), Keesler Air Force base in Biloxi trains more than 28,000 students annually, and the U.S. Navy houses both the Naval Meteorology and Oceanography Command (CNMOC) and the Naval Small Craft Instruction and Training School at Stennis.
South Mississippi is home to two excellent universities and three leading community colleges, as well as some of our state's best K-12 schools.
We're proud of our agriculture, which ranges from major cattle, poultry, and timber operations to small family farms and beekeepers like myself, and we're certainly proud of our fresh-caught Gulf seafood.
If you're a South Mississippian, I'm proud to represent you and our home in Congress. If you aren't, we'd love to have you visit and see everything that our communities have to offer.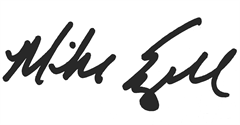 Mike Ezell
Member of Congress